» Go to main news
'I'm thrilled to graduate and complete a long line of Dalhousie alumni': Nursing graduate reflects on time at Dal as he embarks on his professional career
posted by Josey Houle, Health Communications Intern Dal July 7, 2022 in Students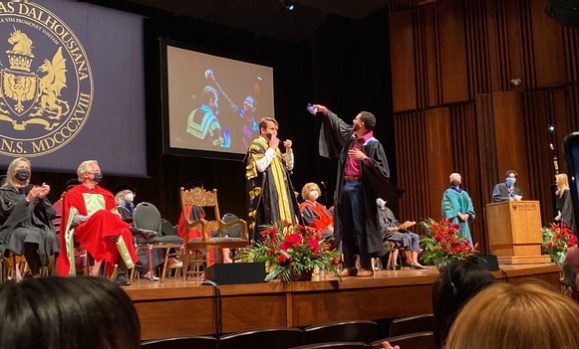 Ahmed (Kamal) Esmat from Cairo, Egypt is the sixth member of his family to graduate from Dalhousie University
The Dalhousie Faculty of Health is proud to celebrate our 2022 graduates as they take their first professional steps in their chosen fields. We congratulate you on your incredible achievements!
How important is it to you to receive this diploma?
This degree is very important to me because it opens up future career prospects, while fulfilling one of my long-term goals. I am the youngest child in a family of six. Both of my parents graduated from Dalhousie and my three older siblings are Dalhousie graduates. For this reason, I am very excited to graduate and complete a long line of Dalhousie alumni.
What were the highlights of your degree?
The highlights of my degree were the clinical placements and the friends who have accompanied me throughout my journey. Internships are where I really found my passion and started to understand how I was able to help someone and their family through vulnerable times. I was also able to make lifelong friends during my time at Dalhousie, friends that I can rely on and who always eased any stress or pressure that I was feeling.
What was your journey to Dal and to this program?
My trip was short, confusing, but rewarding. In high school, I always wanted to be an engineer. I have always liked subjects such as mathematics, physics and chemistry. While all my siblings graduated in engineering, I decided to redirect my career to nursing in grade 12. The possibility of meeting and helping new people on a daily basis really intrigued me. It was the basis of my decision to start my path into nursing and health care in general.
What subjects/research/work did you become passionate about during your training?
During my nursing studies, I became passionate about specific areas such as cardiology and neurology. I also became very intrigued by intensive care such as that provided in intensive care units and medical intensive care units. I was able to do clinical internships there and it taught me a lot about what I wanted to do.
How has COVID-19 impacted you during your studies?
Covid has been a very difficult time for me as I'm sure it was for everyone. Not being able to go to campus to attend classes, study or just see my friends was difficult. I found myself with much less motivation to study, work out, or do anything productive because I was always stuck in my room. However, the faculty did a great job of accommodating us, and they always seemed to understand the challenges each student faced regarding Covid.
What's next for you?
Luckily, I was able to get this degree at the relatively young age of 19. Therefore, I am still very excited for what is yet to come. I still have career goals and academic goals to achieve. I currently work in a hospital with an intensive medical care unit, and look forward to training there soon. I would like to explore different types of nursing. Alongside work, I am also beginning my research journey by working with staff in my unit to publish a research proposal regarding specific patient outcomes. Also, I would like to come back to Dalhousie to continue my studies in health care.